What's all the fuss about?
Have you ever wondered what all the fuss is about with a Jacuzzi® hot tub? 
Welcome to Outback 365, where we showcase the finest hot tubs in Northern Ireland. If you've landed here, chances are you've already come across our most sought-after model, the Jacuzzi® J-335™️. Are you currently on the hunt for the perfect hot tub that can provide you with the ultimate hydrotherapy experience right in the comfort of your own home? If so, you might find yourself wondering whether this particular hot tub can truly live up to its promises and meet all of your hot tub desires. 
Well, sit back, relax, and join us on this deep dive into the world of the J-335™, where we'll review its features, pros, cons and everything in between. 
Jacuzzi® takes great pride in crafting hot tubs that cater to a wide range of customer demands and requirements. The J-335™, a member of the renowned J-300™️ Comfort Collection, gained quite a reputation, winning WhatSpa? 's Best Buy award for three consecutive years and even claiming GQ's title for the best hardshell hot tub in 2022. So, you know we're not joking around here!
The J-335™ is just one gem in the treasure trove of options in Jacuzzi's hot tub lineup. It's special because it offers a truly unique and customisable hot tub experience, packed with exclusive features that set it apart.
But hey, before making any hasty decisions, let's take a closer look. We know that not every hot tub suits every Tom, Dick, and Harry. That's why we're here to break down the J-335™, giving you all the nitty-gritty details, from the perks to the pitfalls.
The Jacuzzi® J-335™ Unveiled
The J-335™ finds its sweet spot in the middle range of the J-300™ Collection, offering room for up to six of your favourite people, plus a cosy lounge seat. With dimensions measuring 213.5 x 213.5 x 92cm and an impressive arsenal of 42 jets, this hot tub is all about delivering an out-of-this-world, custom hydromassage experience.
Features Of The Jacuzzi® J-335™
Now, let's drill down into what makes the J-335™ tick:
Jacuzzi® PowerPro® Jet Technology: Brace yourself for a hydromassage like no other. Believe me, it's good!

ProClear® 5-Stage Filtration System: Because crystal clear water is the name of the game.

ProFinish™ Cabinetry with Exterior Lighting: It's not just good looking; it's built to last.

CLEARRAY Active Oxygen™ Water Management System: Keeping your water pristine without excessive chemical use.

LED Lighting: Setting the mood with a touch of elegance.

LED Control Panel: User-friendly control at your fingertips.

Multi-Layered Insulation: Keeping the heat where it belongs.

Unique Hydrosoothe® Head Massage Pillow: Trust me, you won't want to get out.

ProLast™ Hot Tub Cover: Excellent quality.

Bluewave® Stereo System: The sound quality is really excellent.

Available in Platinum and Midnight Acrylic Shell colours: Choosing our favourite is hard.

ProClarity® Circulation Pump: Keeping things circulating smoothly.

Four Pillows: Because luxury is in the details.

One Waterfall: Nature's serenade.

SmartTub® System (Optional Upgrade): bringing your hot tub experience into the digital age.
So, what's the deal with these features, you ask? Well, the J-335™ comes loaded with goodies, some of which are patented to the Jacuzzi® brand and others exclusive to the J-300™ collection. The best part? These are all standard features, with no hidden costs like with some other brands.
Premium Led Lighting
The J-335™ takes lighting to the next level with its Prolite™ range, enhancing your hydrotherapy experience with light therapy. Whether you're in the mood for a carousel of colours or a fixed shade to set the ambience, Prolite™ delivers. Plus, it offers features that aren't available in lower-tier collections, adding an extra layer of richness to your wellness routine.
Powerpro® Range
Here's where things get interesting. The J-335™ harnesses the power of advanced Jacuzzi® PowerPro® jet technology, an upgrade from the ClassicPro™ range found in lower-spec models. This feature is where the magic happens. It offers a wider variety of jets in various sizes, each capable of rotating and targeting specific body areas for maximum therapeutic effect. It's like having your physiotherapist in the hot tub, ready to relieve stress and tension.
Profinish™ Cabinetry
Elegance and resilience perfectly marry in the ProFinish™ cabinetry. It's not only visually appealing but also durable. Easy access to essential components and plumbing without any tools required. Plus, it's built to stand up to the elements and looks good doing it. And it doesn't stop there; the ProPolymer™ base ensures a solid foundation for your hot tub to sit on.
Hydrosoothe™ Pillows
Exclusive to the Jacuzzi® J-300™ collection, the Hydrosoothe™ massage pillow is a game-changer. Made from water-resistant, soft fabric, this pillow comfortably cradles your head while delivering a soothing massage to the back of your head and neck. As water gently cascades onto your shoulders, the Hydrosoothe™ pillow adds an extra layer of relaxation, alleviating tension headaches and neck pain and promoting muscle relaxation. This unique feature is a luxury exclusive to Jacuzzi® hot tubs, offering a spa-quality experience right at home. 🙌
Smarttub™ Compatible
For the tech-savvy among us, there's the optional SmartTub™ system. You can upgrade to SmartTub™ when you purchase or after purchasing a Jacuzzi® hot tub. 
SmartTub® allows you to remotely monitor your hot tub system health, control the temperature, turn off specific parts, and lockdown the hot tub's programs, all from your smart device.
The SmartTub™ app can be used via cellular communication, rather than WIFI, for its stable connectivity (exclusive to Jacuzzi®). This means that no matter where you are, you're in control.
To Read More About Jacuzzi® SmartTub™️
 Much Does The J-335™ Hot Tub Cost?
Now, for the big question – the Jacuzzi® J-335™ has a recommended retail price of £12,749.00.
Is The Jacuzzi® J-335™ Energy Efficient?
The average cost to run a Jacuzzi® Hot Tub in the UK is 5kWh per day. This works out at £1.70 a day at 34p per unit. (This is based on data collected from 1,850 Smart Tubs from January 1st 2022, to December 31st 2022, which includes real-world usage.)
So the answer is yes, the Jacuzzi® J-335™ is energy efficient, boasting some key features:
Exceeding California Energy Commission (CEC) standards by a solid 29%.

CLEARRAY Active Oxygen™ system, which reduces chemical usage and keeps your hot tub running efficiently.

ProLast™ hot tub cover, locking in that precious heat.

Full foam insulation, maximising heat retention.

Optional SmartTub™ for tracking your energy usage and using features like Smart Heat Mode and Holiday Mode.
Who Is The J-335™ Good For?
Let's talk about the lucky individuals in for a treat with the J-335™. This hot tub is a dream come true for anyone craving a top-notch hydromassage experience. It's perfect for the social butterflies out there, too. With seating for up to 5 – 6 people, everyone can bask in ergonomic comfort. Plus, one lucky soul can dive into the lounge seat for the ultimate full-body massage.
Or, if you want some alone time, you can glide around each seat and enjoy the unique, targeted massage each seat provides for a full-body workout. This hot tub is the jack of all trades, catering to those who want the crème de la crème of massages while enjoying the company of friends and family.
Who's The J-335™ Not For?
If you're seeking the absolute pinnacle of hydro technology and extra features, consider checking out the J-475™ from the J-400™ Collection. And, yes, the J-335™ is a premium choice, so if it stretches your budget, you might want to explore some mid-range options.
Pros Of The J-335™
HydroSoothe™ massage pillow for that extra touch of relaxation.

PowerPro® jet range, including exclusive jets and therapy seats.

A stylish, curved, and unique shell design.
Cons Of The J-335™
The lounge seat can be a bit cosy if you're particularly tall.

It's a premium hot tub, which may not fit everyone's budget.

There's only one HydroSoothe™ pillow among the four, so not everyone can enjoy it at once.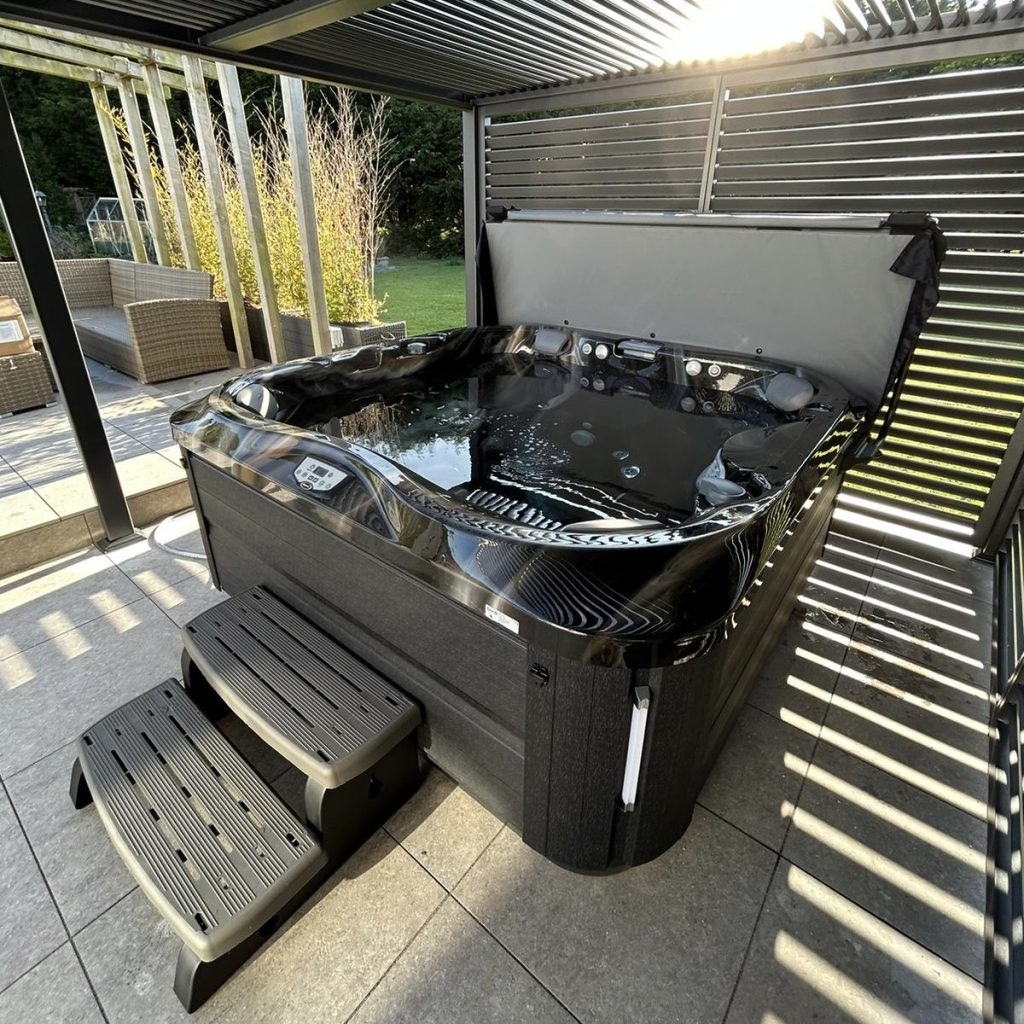 In Summary
In a nutshell, the J-335™ packs a punch in a compact design, fitting perfectly in most gardens and offering a comfy spot for five people to unwind. Whether you're all about daily hot tub hydromassage or just craving a space for relaxation and stress-busting, the J-335™ could be your ticket to paradise. The price reflects its unique blend of design, hydrotherapy, and social enjoyment. For those leaning toward the social side, explore the J-200™ collection, while those hankering for top-notch hydrotherapy and advanced tech should peek at the J-400™ collection.
So, there you have it, folks! Hopefully, this review has taken you on a soothing journey through the J-335™ hot tub, helping you inch closer to your dream hot tub experience. 
Your dream hot tub could be closer than you think! 💫💆‍♂️💆‍♀️💫
What's your next step?
Ready to take the plunge? Want to Book An Appointment with our friendly Outback 365 team, with showrooms in 2 locations in Northern Ireland. Choose your closest location and click the button to pick a time that suits you.
Dungannon Showroom                                       Bangor Showroom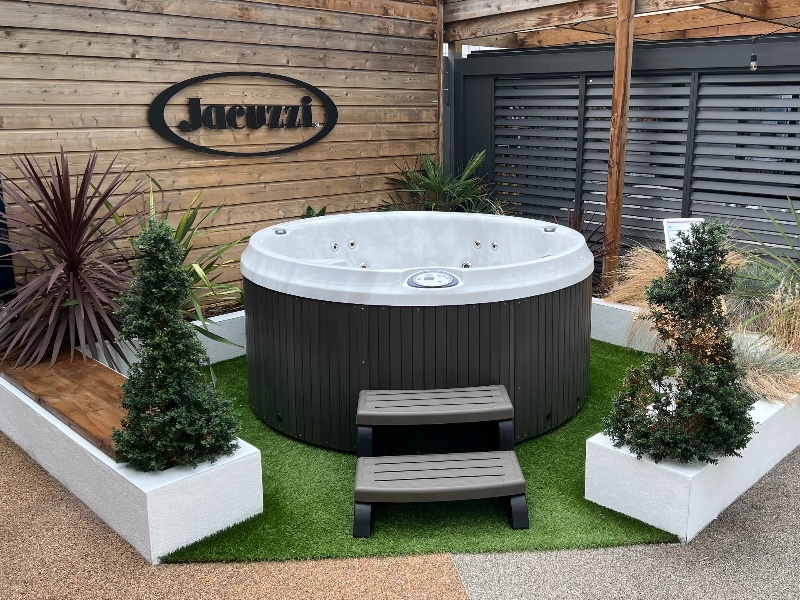 Dungannon – Book An Appointment
Bangor – Book An Appointment
Disclaimer – Prices for Jacuzzi® Hot Tubs mentioned in this article were accurate at the time of writing (20th Septemeber 2023) and may change without notice.