WE ARE PROUD PARTNERS OF

Hot Tubs, Gazebos & Pergolas in Bangor
At Outback 365 in Bangor, Northern Ireland, we've teamed up with world-leading brands to curate a unique collection of premium outdoor living products to help you create and utilise your garden, terrace, or outdoor living space. If you're seeking high-quality products and need expert advice, our knowledgeable staff can help. Why not visit out showroom in Bangor?
Browse Our Bangor Hot Tub & Outdoor Living Showroom
Our showroom features 9 hot tubs and 6 beautiful pergola and furniture displays - this offers a fantastic range to help customise your final product. We offer appointment times 5 days a week for your convenience.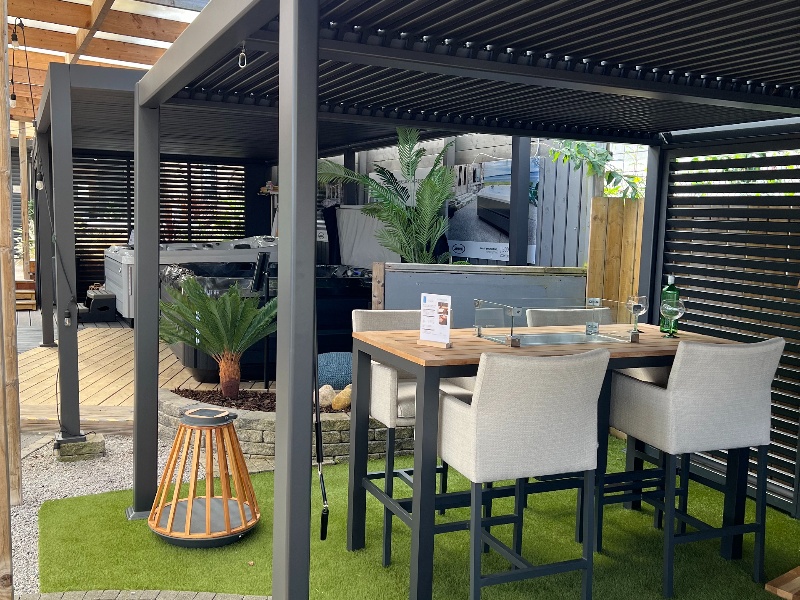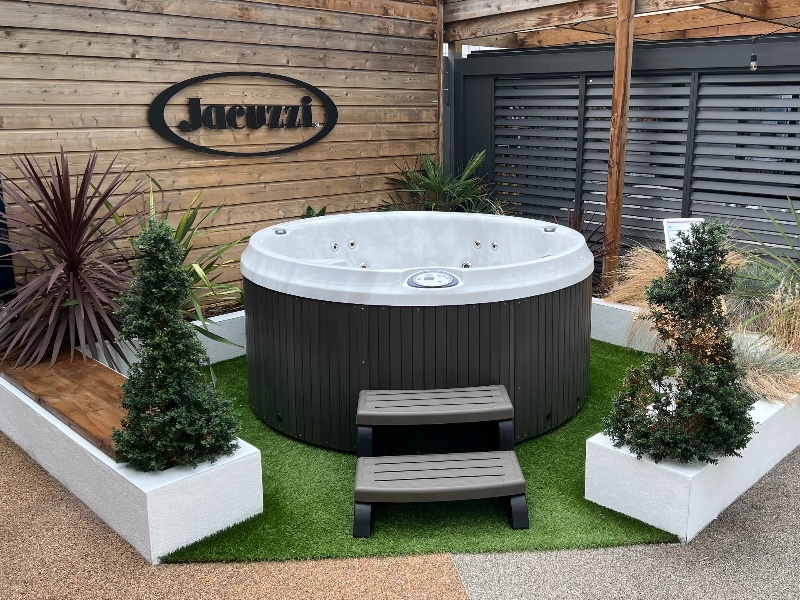 Discover What's on Display at Our Showroom
Browse the collection below to find information about the hot tubs, pergolas, and outdoor furniture we have on display at Bangor. When you're ready to experience our collection in person, book a visit to our Bangor showroom.
Why Choose Outback 365?
Family Run Business
We are a local family run business, specialising in outdoor living for Northern Ireland and The Republic of Ireland
Over 20 Years Experience
At Outback 365, hot tubs are our passion, backed by over 20+ years of experience.
Fully Trained Team
All staff trained by the top two hot tub manufacturers Hydropool and Jacuzzi
Stockists of Leading Brands
We are proud partners of leading outdoor living brands including Jacuzzi, Sun & Soul & Suns Lifestyle
Meet Our Experienced Team
Alexandra Dunlop
Owner
Paula McGarrity
Sales Consultant

We purchased the Alvaro pergola from Peter in the Dungannon store and we couldn't be happier with the the entire experience. The pergola itself is excellent quality and the guys who installed it did a great job. I can't recommend them enough.
Amanda Harkins
08/05/2023
Alex Peter & team are all amazing people from the very start they guided us through the process of picking the right jacuzzi®️for our business the customer care & after sales is exceptional high the technical team we're exceptional in there field I can highly recommend them all Outstanding Customer Service and Support Thank you all for your continued service & support much appreciated Kind regards Amanda & Mike Harkins
Excellent service, great people to deal with.
Got our hot tub up and running datoday. We are over the moon. Excellent advice and service from Peter and Alex. Would highly recommend. Thank you.
Wonderful knowledgeable staff who could not be more helpful. Excellent variety and product quality. I look forward to shopping here again in the future
Shaun Longstaff
13/08/2019
Alex and Peter were a pleasure to deal with. Getting my Hot tub into the back of my house involved a crane and an extra power output! These challenges were easily overcome and extremely quickly by Alex and Peter who organised everything with efficiency and good natured smiles. I would never hesitate to recommend Outback. The after sales care has been excellent too. Shaun Longstaff
shannon McCauley
15/03/2019
Great place for all outdoor living accessories. Love my Hot Tub and get great use of it all year round! 1st class service!
Great selection of quality hot tubs, outdoor kitchens/bbqs and furniture and friendly helpful staff who know their products. I see they are currently offering a 0% finance deal on the spas. Hard to beat.
Bangor Showroom
2a Balloo Park
Bangor
BT19 7PP
Opening Hours
Monday 10:00 – 16:00
Tuesday Closed
Wednesday 10:00 – 16:00
Thursday 10:00 – 16:00
Friday 10:00 – 16:00
Saturday 10:00 – 16:00
Sunday Closed
Get In Touch With Our Experts

Get Directions
This will open Google Maps with driving and public transport directions in a new window.
What areas do you deliver?

At Outback 365, we're committed to providing a seamless and reliable delivery experience for our customers in both Northern Ireland and the Republic of Ireland. We take extra care to ensure your products reach you in the best condition.

Delivery in Northern Ireland:

Coverage: We offer free delivery on all orders over £50 within Northern Ireland, which includes the following counties: Antrim, Armagh, Derry/Londonderry, Down, Fermanagh, and Tyrone.

Delivery to the Republic of Ireland:

Coverage: We also serve customers in the Republic of Ireland, which includes the counties of Carlow, Cavan, Clare, Cork, Donegal, Dublin, Galway, Kerry, Kildare, Kilkenny, Laois, Leitrim, Limerick, Longford, Louth, Mayo, Meath, Monaghan, Offaly, Roscommon, Sligo, Tipperary, Waterford, Westmeath, Wexford, and Wicklow. Please note that there is an additional delivery charge for orders to these regions.
Placing Orders from R.O.I.: To place an order from the Republic of Ireland (R.O.I.), you can do so online. After placing your order, we will contact you separately to collect the additional delivery charge to your region—R.O.I. Delivery charges range from £100 to £300 depending on the region.

How to prepare for an appointment with us?

Capture Visuals: Capture your outdoor space through pictures or videos. This gives us a clear understanding of your surroundings, aiding in designing the perfect fit for your hot tub or pergola. If you have architectural drawings or plans for your outdoor space, don't hesitate to bring them along. They provide valuable insights for our team to work with.
Measure Your Area: Measure where you plan to install the hot tub or pergola. Knowing the dimensions ensures accurate recommendations and a seamless fit. Also, capture your delivery route around your property if you are considering a hot tub so we can plan for a seamless installation.
Appointment Confirmation: Double-check your appointment's date, time, and location. If you need to reschedule or have any specific requests, please let us know in advance.

By taking these steps, you'll be well-prepared for your appointment with Outback 365, ensuring a productive and enjoyable consultation. This preparation will help us understand your vision and requirements, making it easier for us to assist you in creating your dream outdoor living space.

Are all the items available for purchase online also on display in your showroom?

At Outback 365 Northern Ireland, we offer an extensive collection of outdoor items to cater to diverse preferences. While we showcase a curated selection in our showroom, our online range is even more comprehensive. This approach ensures that you have access to a wider array of options, allowing you to explore and choose from an expansive palette of outdoor luxury that may not all be physically present in our showroom.

Rest assured, our team is always ready to assist you in exploring our entire range, including items not on display, to help you find the perfect luxury outdoor setup for your space. If you have a specific item in mind, we recommend contacting our team to inquire about its availability and viewing options.

What maintenance and support can I expect for the luxury Jacuzzi hot tubs purchased through Outback 365?

At Outback 365, hot tubs are our passion, backed by over 20+ years of experience. We exclusively offer luxury Jacuzzi® hot tubs because we believe your garden should be a sanctuary of wellness.

Our support extends beyond the tub itself. Our team of trained technicians is ready to assist with maintenance, repairs, and guidance on hot tub chemicals and accessories. Whether it's water care products or enhancing your hot tub experience, we're here to provide expert advice. Our unwavering commitment is to ensure that your Jacuzzi® hot tub continues to be a source of relaxation and enjoyment, maintaining your garden's role as a place of wellness for years to come.
Follow Us On Instagram
For daily inspiration on hot tubs, pergolas and outdoor living follow us:
@outback365ni