Welcome to the exciting journey of finding the perfect hot tub with Outback 365! We are genuinely thrilled to assist you in your quest. To ensure you get the most out of your upcoming appointment, it's essential to come prepared with the right questions and information. In this post, we'll share five essential questions you should ask yourself before attending your hot tub showroom appointment with us.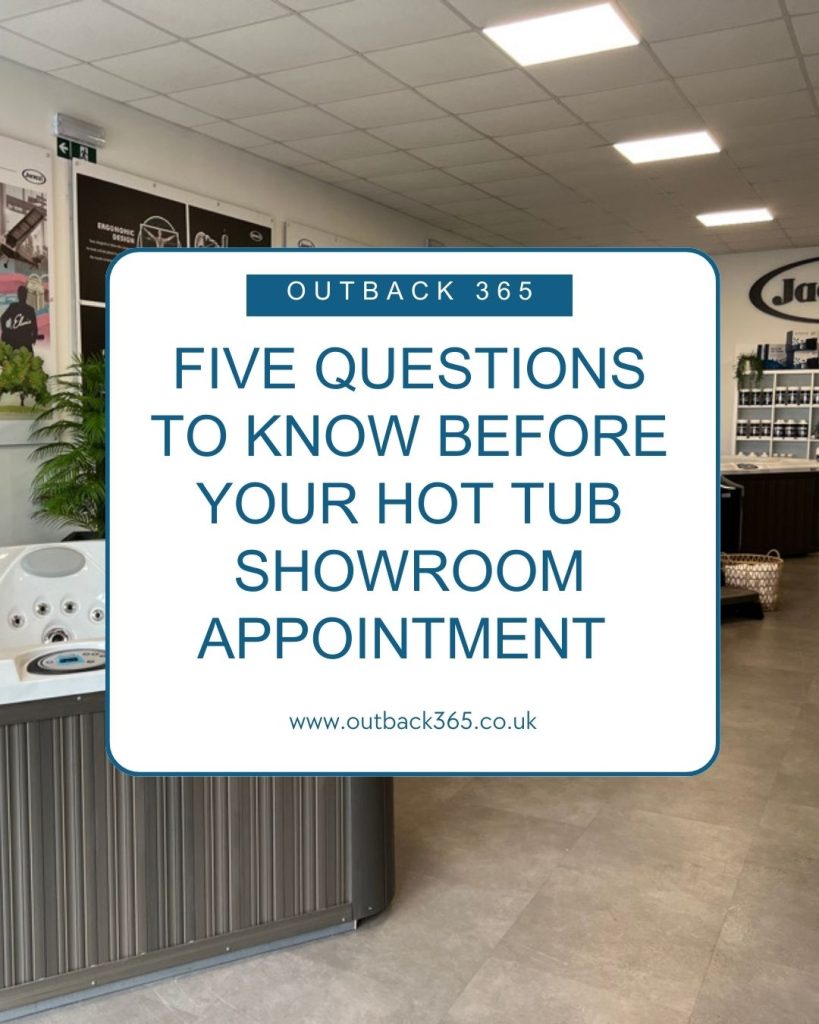 Question 1: What's My Budget?
One of the most crucial aspects of buying a hot tub is determining your budget. Consider how much you're willing to invest in your hot tub, including installation costs and potential ongoing expenses. Knowing your budget will help our experts to tailor their recommendations to your financial comfort zone.
Question 2: How Many People Will Use the Hot Tub?
Think about the primary users of the hot tub. Is it just for you and your partner, or will you frequently host friends and family? This insight will help us suggest the ideal hot tub size, ensuring everyone enjoys a comfortable experience.
Question 3: Where Will the Hot Tub Go?
Before your showroom visit, measure the area where you would like your hot tub positioned. Bringing photos or sketches of the space can be incredibly helpful. This visual aid allows our team to assess your space's layout and provide guidance on the best placement for your hot tub, considering factors like accessibility, privacy, and aesthetics.
Question 4: What Features Do I Want? Hot tubs offer many features, from therapeutic hydrotherapy jets to soothing lighting and advanced sound systems. Consider what features are essential for your enjoyment. Do you have specific therapeutic needs, or are you looking for an entertainment-focused experience? Are you interested in cutting-edge technology for energy efficiency, such as SmartTub®?
Question 5: How Will I Maintain My Hot Tub? Proper maintenance is the key to preserving your hot tub's longevity. Reflect on your willingness and ability to maintain water quality, clean the tub, and perform routine maintenance. Your maintenance preferences will play a role in selecting a model that aligns with your needs.
To sum up, by asking yourself these five questions and coming prepared with photos of your space, you'll be well-equipped to make an informed decision during your hot tub showroom appointment. At Outback 365, our goal is to help you find the hot tub that fits your lifestyle and preferences perfectly.
What to Expect from Your Showroom Appointment:
Now, moving on to what you can expect during your visit to our hot tub showroom at Outback 365:
Product Selection: Firstly, at Outback 365, we proudly offer an extensive selection of hot tubs from industry-leading brands, providing you with many options. During your visit, you can compare different models, including those with various seating arrangements, jet configurations, and energy-efficient technologies.
Water Testing: Secondly, a highlight of your visit is witnessing a live water testing demonstration. This experience offers an in-depth understanding of water maintenance and emphasises the importance of water quality for your hot tub. You'll gain insights into keeping your spa water clean and crystal clear for a safe and enjoyable experience.
Try Before You Buy: You can immerse yourself in the hot tub experience at Outback 365 by testing one in our showroom. This hands-on experience lets you assess the comfort, seating, and hydrotherapy features, helping you select the one that best aligns with your preferences. Don't forget to bring your swimsuit to fully appreciate the experience!
Finance and Warranty Information: Our team at Outback 365 will provide comprehensive information on financing options, warranties, and after-sales support. By the time you leave the showroom, you'll have a clear understanding of the financial aspects and the peace of mind that comes with the longevity of your investment.
Outdoor Living Accessories: In addition to hot tubs, Outback 365 offers a wide range of luxury outdoor living accessories, including pergolas and patio furniture. These additions can help you create a complete outdoor space that beautifully complements your new hot tub. Moreover, it perfectly aligns with your vision of outdoor comfort and relaxation.
Additional Questions: You will have many more questions, so please don't hesitate to ask our team. We're here to assist you in making the right decision.
As you plan your visit to Outback 365, whether you seek to enhance your outdoor space, improve your well-being, or create unforgettable moments with loved ones, we're your destination for the perfect hot tub experience. Get ready to embark on a journey towards relaxation, comfort, and outdoor living at its finest.
See you at our showroom!